A free minor build update has been released for StoryBoard Quick Studio v6.1  to provide the latest features and bug fixes for your software license. PowerProduction Software's latest update for StoryBoard Quick STUDIO 6.1  is a maintenance release update, which speeds up image processing and adds an update to import for Gorilla Scheduling .xlsx files. For Mac users, 6.1 is also Mountain Lion ready, however an Update is available for both Mac and Win.
Update StoryBoard Quick Studio v6.1
To check for updates launch your Storyboard Quick STUDIO v6.1 software and open Help Menu > Check for Updates.  You can always chat with us if you need assistance. But it's a free Storyboard Quick Studio update to v6.1
(If you are currently using Storyboard Quick  v5 or 6 or Storyboard Quick Studio v6, you can upgrade to STUDIO 6.1. This is a free StoryBoard Quick Studio update for v6.1 registered users)
Click here for further instructions on Checking for Updates.
If you're not sure which build you currently have installed on your machine, open StoryBoard Quick  Studio> About StoryBoard Quick… (on Mac) or Help Menu > About StoryBoard Quick Studio (on Windows).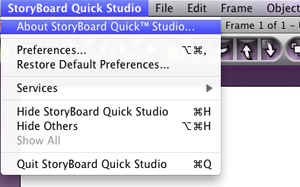 This will display the splash screen.  You can find your build number displayed at the bottom right corner.