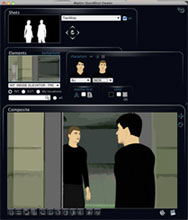 There's a free update for Martini QuickShot v2 Plugin for users of Premiere Pro CS6.
Martini Quickshot Plugin
Check to make sure you have the latest version. To do so, go to the Preferences Window in Martini QuickShot Creator, click check for updates. You can download it from the link provided and install the updater over your existing version. User Version 1 Users can upgrade here.
If you are new to Martini QuickShot Creator, check out this exciting application for editorial post visualization at www.martiniquickshot.com.
The Martini Plugin is available from PowerProduction Software.  This post visualization plugin lets editors insert visual slugs in their rough cuts rather than having blank spacers stand in for missing scenes.