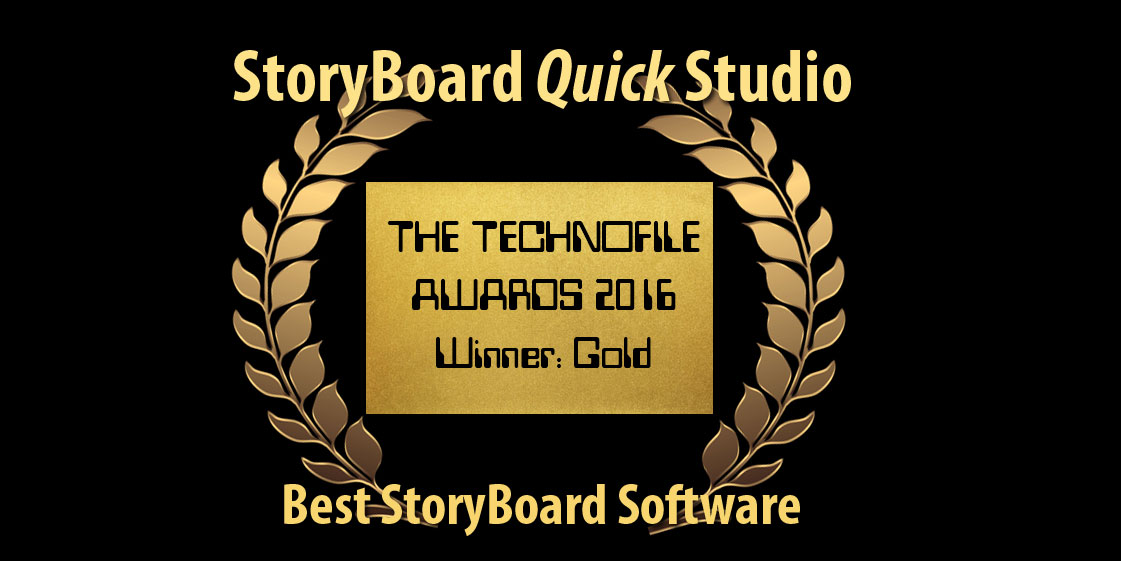 The Gold Winner:
Best StoryBoard Software:  StoryBoard Quick Studio
Love 'em or hate 'em, storyboards play an essential part in many productions and if you need to create one but cannot draw (or even if you can) StoryBoard Quick Studio makes the process quick and easy"
Thanks Technofile for awarding StoryBoard Quick Studio the Gold Award for Best Storyboard Software. It's great to be recognized for solving the problem heard from our users over and over again. Our creative users' sentiments range from "I can't draw but need to storyboard a project" to accomplished story artists who say "I can draw but don't want to spend the time making elaborate boards for a spec project."
So if you fall somewhere in between that, read what else The Technofile says in their recent review of Best Storyboard Software: StoryBoard Quick STUDIO Version:
More from the Review

"First select your storyboard frame from a comprehensive range of common aspect ratios (that cover everything from 2.39:1 CinemaScope to web formats, via SD & HD);
Next add an interior/ exterior location from one of the many on offer or import your own photos as backgrounds with alpha channels and mask tools. Then pose your cast of customisable vector art characters in a variety of actions, angles and elevations. Finally, add props ranging from cars to cats.
Storyboards can be created from scratch or you can import a script from Final Draft, Screenwriter, Word, et al and build your storyboard around it. The included artwork can be augmented with optional libraries. And if you have drawing skills you can create your own artwork using Storyboard Quick's vector drawing tools (which include speech bubbles and 3D Directors arrows). If that seems like too much work, Storyboard Quick Studio's Automatic Shot Creator lets you select your characters and shot type, pick a location…et voil' ! There's also an 'Overview' that shows you your entire storyboard and allows you rearrange shots, delete frames, insert missing shots and 'Jump To' frames for fast editing.
When you're done you can print, export to the web, or export a flash movie. There's also a 'print to sketch' option that renders storyboards as black and white hand drawn illustrations, which we love."
We love them too!