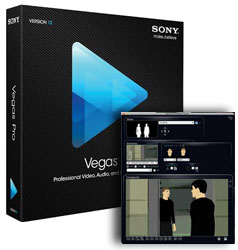 Vegas Editors and Video Directors have a new way to visualize edits.
Martini Quickshot, the fastest and easiest way for editors to visualize unshot footage, (a/k/a post-viz) has come to Sony's professional video editing system Vegas Pro 13 & Vegas Pro 12.
With modern day production no longer exclusively being conducted in phases, there's a good chance you can be in both the shooting stage and editing stage at the same time. Martini QuickShot Creator editorial plug-in fills in gaps with great looking visual shots and sequences.  Martini helps directors and editors keep the integrity of a project's timing and visual continuity. It lets creatives make visual stand-in shots right inside their digital editing system.
Post-viz storyboarding in your editing software
Therefore, no more blank slugs or black frames with text overlays explaining what shots need to come next.  Editors can see ideas in shots and sequences placed right in the middle of real footage. It helps establish a clearer, closer actual representation of what the finished project will be.  Also, editors can determine which shots need to be completed or augmented and finalize the exact timing of necessary second unit/pickup shots.
Martinis all around
So Martini already available for Adobe Premiere, Avid Media Composer and Final Cut Pro is now available for Sony Vegas. Finally, it has proved to be valuable for filmmakers of every level.  No matter what type of project your production calls for – movies, TV, commercials, web series or industrials – Sony Vegas Pro plus Martini QuickShot Plug-in can help you with easy-to-use HD video editing and now, shot creation.
While you can check out the demo, you can also purchase Martini QuickShot directly from PowerProduction Software.