Want to create compelling content? Look no further than your own mobile devices or tablets to help you get going with mobile storyboards.  As smartphones and tablets gain power, the mobile moviemaking apps and accessories are keeping pace.  From storyboarding to sound boards, monitors to movie mounts there's so much useable technology out there at extremely affordable prices that leaves creatives no excuse not to yell "action!"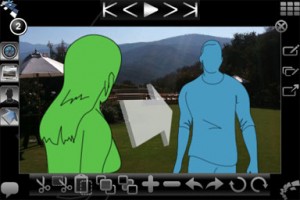 StoryBoard Quick Direct helps you plan every shot and develop a fast and easy blueprint on any mobile devise.  Complete with characters and camera direction, the app harnesses the cinematic power of your phone or tablet. It provides backgrounds to complete a series of amazing storyboards or layers characters over your photos.  You can create storyboards anywhere and get started making your movie right away.
Mobile Sound Recording
So when you need "studio-quality" sound on set the team at computerworld.com suggests checking out Mic Lightning.  Compatible with your iPad and works with GarageBand but due to it's use of the Lightning cord and a cardiod mic this is a low-cost solution for mobile video makers of every level
Looking for more ways to edit down all that footage?  The guys from Stuff Magazine offer up a six-pack of ideas on easy-to-use editing apps.  Of course, for iPad users, iMovie is readily available. But if you want to take the next step in mobile editing take a look at Pinnacle Studio. Make "more complex transitions" and "fancy picture-in-picture" effects.
Check out computerworld.com and stuff.tv articles for more suggestions on taking the next step in realizing your cinematic visions. Harness the power of your mobile devices!