PowerProduction Support Resources
In-Product Support for Storyboard Software Applications
PPS storyboard software in-application's HELP Menu :

- provides links to video tutorials to assist you to learn what you want, when you want it. (If you don't see a video for the feature you need assistance with, send us an email and we'll make a video). - provides access to the PDF documentation/User Guides.

- provides link to check for updates.
For other questions, check out the FAQs about PowerProduction's storyboarding software!
Technical Assistance for all PowerProduction Products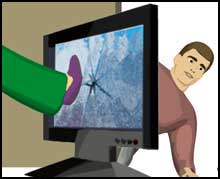 Need assistance quick? Don't panic :)
Our technicians work behind the scenes 24/7.
Use the E-ticket system to notify us of the problem.
Click on the E-Ticket Assistance button below to be connected.
The response time is fast and friendly.
For installation issues, please put INSTALL in the Subject for faster service.

For authorizations see the Authorization Support page.
Previous Versions
If you need assistance on a previous version, first please check for updates which are available from within the application under the HELP menu > Check for Updates.
To Upgrade: Information is available on our site or in announcments on our blog.