Disguises & Facial Expressions Library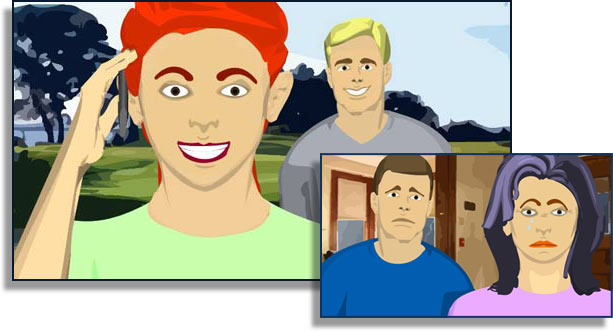 This is the add-on you've been waiting for! Disguises & Facial Expressions have colorable, rotatable masks, hats, glasses, facial hair and expressions that match your built-in characters. Now Quick can have characters with facial expressions too like Happy, Sad, Laughing, Angry, Crying and more.
TableTop Props
Sometimes telling a story is all about the details and this new Storyboard Add-On Library can help! Over 100 storyboard props, close up and detailed to fit into your storyboard! From desk accessories to food to kitchen appliances, the TableTop Library gives your storyboards that extra attention to detail.
Overhead & Overlays Library
Overheads: Plot out shots, diagram action for camera placement or blocking points. Included are colorizable Overhead actors, furniture, vehicles and roads. Overlays: Looking through a key hole, peering through binoculars, Overlays will add that extra level of detail to sell your idea. The Overhead & Overlay Library will be easily accessible through your application's Props Palette.
Motorpool Library
Planes, Trains and Automobiles! The Motorpool Library carries loads of various transports from cars to planes, boats to emergency vehicles ready to move your script where it needs to go. This storyboard library is ready to roll and includes various and integrated angles of over 60 vehicles.
Law & Order Props Library

This storyboard library of props is armed to the hilt with an army of graphics, from police and thieves to weapons and getaway cars. This library is well equipped to getting your political thriller, new combat or true crime movie off the ground!

This prop library breaks the rules and includes one row of characters that rotate into other views of various military / paramilitary storyboard characters. So you're getting characters and props in one!
Western Props & Locations
Giddy up and order the Western Props & Locations! These locations will bring you right into the saloon and on the dusty roads of the western towns. The props include everything from stagecoaches to gunslingers, horses to gallows, the Wild West Props will accent your boards without costing you a "Gold Rush." With these new graphics, you'll blaze a trail of great-looking storyboards!
Atmosphere Extra Characters
Give your film a dash of everyday reality with the new Atmosphere Actors! Any scene in a public location always has those guys milling around the ER, the hallways or the downtown station. With the new Atmosphere Actors you can accent those scenes in a snap! From delivery men to birthday clowns, these are the extras-men and women who don't get top billing but make our stars stand out in a crowd!